Icom ID-52 is the latest VHF/UHF D-Star handheld transceiver released by Icom and it's meant to replace the recently discontinued ID-51PLUS2. As expected, the USA version will be dubbed IC-52A while the European market counterpart will be ID-52E.
The Icom ID52A/E follows in the footsteps of the ID-51, with similar layout and slightly larger size. The most obvious difference is the display, as a more recent 2.3″ color display with has replaced the (long dated) 1.7″ dot matrix used in the previous model. The new screen uses transflective technology, which improves visibility in bright sunlight. Usually a light sensor is used with transflective displays to allow automated on-the-fly adjustments of brightness depending on ambient light, but we don't know yet if Icom has indeed implemented this.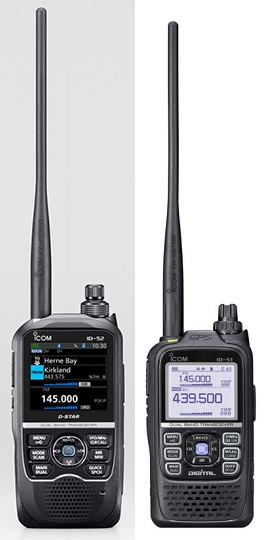 Another welcome addition is Bluetooth, enabling connection to audio headsets, image transfer and remote control; USB charging is also finally here. Excuse me if I won't be jumping up for joy because amateur radio manufacturers are finally discovering technology from 15 years ago.
In the Icom ID-52 you will also see small improvements over the ID-51 like wider airband coverage, 750mW of audio power instead of 400mW and improved D-STAR functionality that allows sending pictures. "Simultaneous reception in V/V, U/U, V/U or DV/DV" seems to be interesting; it's still not full-duplex though. We still get IPX7 ingress protection (1m depth for 30 minutes), internal GPS receiver, SD card slot, the DR function and Terminal/Access Point modes.
There is no information yet about the price, but we can expect something around (unofficial and purely personal estimation) US$450 at launch. No words on availablity either.
The big fat elephant in the room is the fact that there is no mention of the screen being a touch screen. If Icom is still relying on the same clunky, outdated user interface in the ID-51 (a joystick and a few buttons) for a product announced in 2020 … the disappointment is off the scale.