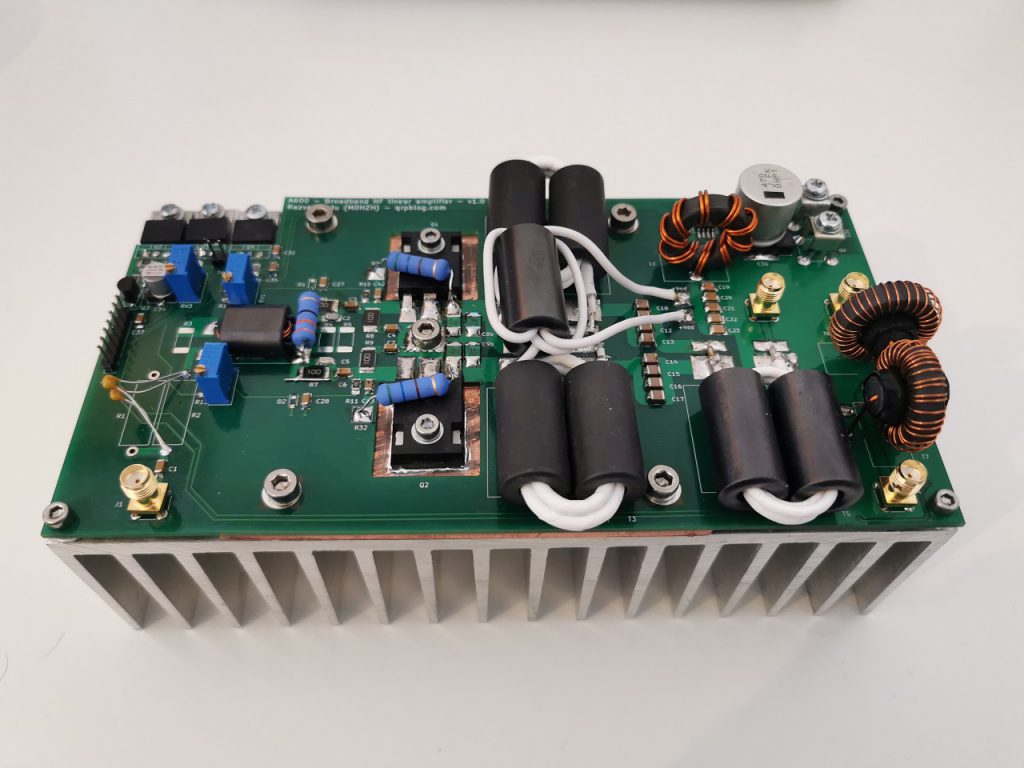 This is the home page of the A600 – my 2x MRF300 600W amplifier project for HF/6m, as initially described in this article. Here I will post the latest developments.
General features & specifications
1.8-54MHz coverage, 600W output, 20+dB gain
uses a pair of low-cost MRF300 LDMOS transistors. These are proper RF power transistors housed in common TO-247 packages.
onboard sensors for supply voltage, supply current, heatsink temperature, output power & reflected power. These are available via the Sensor Port and can be read directly by most microcontrollers, including most Arduino boards.
connectors for an external bank of low-pass filters, so they are inserted between the amplifier and the output coupler
Downloads
Update – 2nd December 2019
Published assembly instructions for the v1.2 kit, see above.
LPF board is still under testing; the prototype achieves the desired attenuation but I'd like to improve insertion loss on a few bands before I release the design and make the kit available.
Update – 20th November 2019
Assuming no further issues, the next batch of A600 amplifiers will be ready to ship in the first week of December. Includes some tweaks.
I started working on a compatible Low-Pass Filter board. Should be ready early December.
Still on track with the Control unit for mid December announcement. The hardware is almost done but sorting out the software takes time.
Update – 15th November 2019
A600 v1.2 kit was available to order here. Sold out in less than 8 hours so new batch on the way, hopefully by the end of November.
Updates – 14th November 2019
This project has been awarded the 2nd prize in the NXP Homebrew RF Design Challenge 2019. Really appreciate the opportunity and congratulations to veteran Jim WA2EUJ and the Stanford University team led by Weston Braun for their results.
Kits are almost ready but some parts are delayed due to courier issues. I plan to start taking orders in the following days and ship out after 20th of November.
An advanced monitor, control and protection unit is in the works, featuring a large LCD touchscreen. ETA mid December 2019.
A600 version 1.2
returned to original component references, as used on v1.0 PCB
replaced T2 transformer with two separate coils (L2 & L3), 3 turns on ferrite cores. This improves efficiency and P1dB below 14MHz, but 1.8MHz matching is slightly worse.
changed input network (C43, T1, R6 , R7) for better overall gain (around 24dB now) and better matching on 50Mhz. Input SWR is now below 1.5:1 on all bands.
added 2k4 resistor in series with the bias compensation thermistor, as it was overcompensating. Quick test, heating the heatsink from 25 to 45C changed the idle current with less than 2%.
fixed a few small mistakes in the schematic and rewired the Sensor Port to the correct pinout.