Yaesu FT3D is the next flagship handheld from the japanese company, ready to be released in the following days. It covers VHF/UHF, features a full color touchscreen display, Bluetooth and many other goodies already present on the FT2D.
Yaesu FT3DR is the model expected to be announced at Dayton Hamvention 2019 in the USA, while the European market will get the FT3DE version. Availability claimed in June 2019, but no sign of FCC certification yet.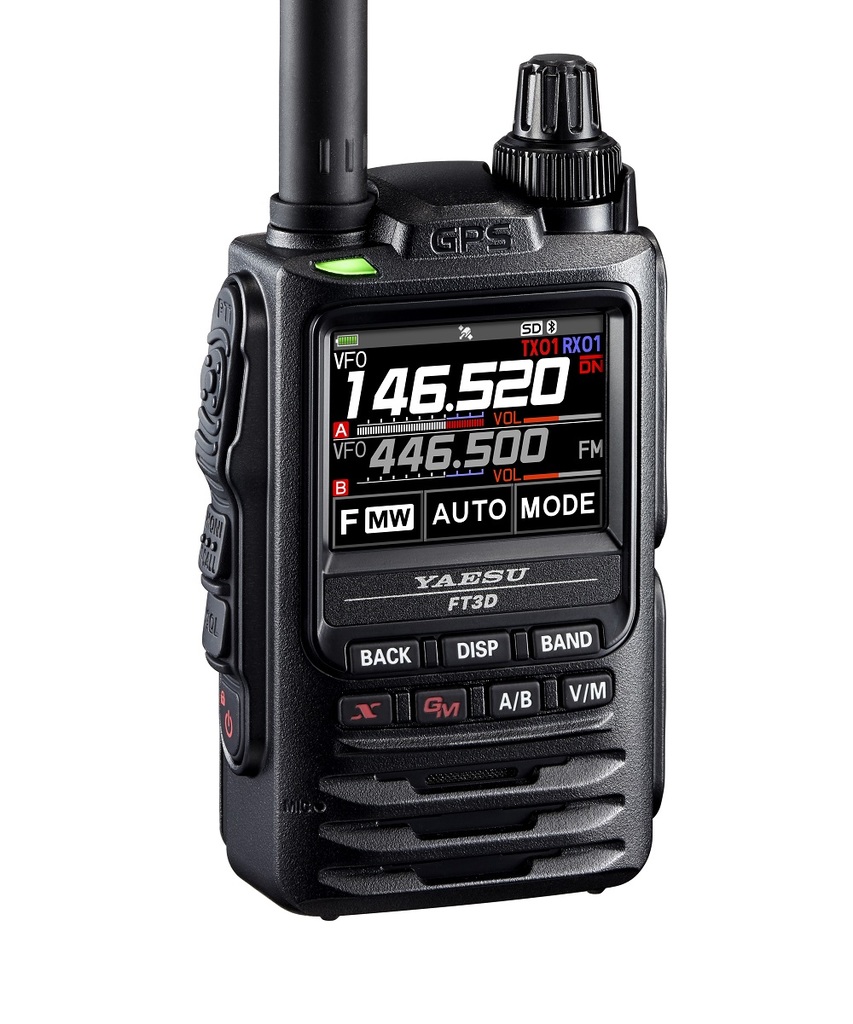 As Yaesu phased out the FT1XD recently and slashed the prices of the FT2D, the FT3D is poised to take the spot as the flagship model in the Yaesu handheld lineup. Bluetooth is an interesting addition to the FT3D, a feature that the rival Kenwood THD74 already has.
Main features of the Yaesu FT3D:
320 x 240 dot matrix full color TFT LCD display
4 power output levels: 5W / 2.5W / 1W / 0.3W
Wide-range RX coverage with continuous reception from 0.5MHz – 999.99MHz (A Band)/ 108MHz – 580MHz (B Band)
Built-in high-sensitivity 66 channel GPS receiver
1200/ 9600bps APRS Data modem
Automatic Mode Select (AMS), Digital Group ID (DG-ID) operation, Smart Navigation
WiRES-X Portable Digital Node Function
2,200mAh High-Capacity Li-ion Battery Pack (SBR-14LI) as standard
Voice Recording Function for the received and transmitting voice and audio data which can be saved as an audio file on the micro SD card
Simultaneous AM/FM broadcast Reception while monitoring two frequency channels
Micro SD Card Slot
Size (W*D*H) 2.44*3.94*1.28" / 62*100*33mm, 9.95oz / 282g
For all the details on the Yaesu FT3DE / FT3DR, see the catalog:
Still no hint about modern features like USB-C port and USB charging or WiFi connectivity, but we can at least hope they've done something about the awful user interface that plagued the FT2D (and most of their transceivers, to be honest).
First shops to list the FT3DR claim a MSRP of US$520, but we might expect that to drop a bit after it's officially available.